Amber Ray has confirmed her and lover Kennedy Rapudo have gone separate ways. The sweet love turned sour after an Expose was aired on Edgar Obares platform after Rapudo was seen having some good time with city girls.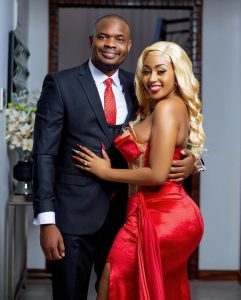 Announcing the breakup news to her fans Amber posted the message that reads "A new day to start as a single mother of two. She went ahead and added,"Done with love."
Amber and Rapudo are expecting their first child together and recently threw a star-studded baby shower that saw top celebrities attending. Amber also has an all grown son Gavin so this makes her a single mother to two.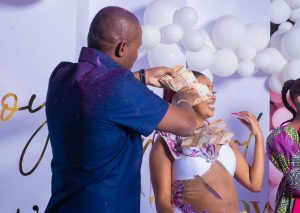 During the Baby shower,Rapudo splashed money on Amber after they had a chopper ride to the venue where the event was taking place.
Amber and Rapudo had broken up months ago but patched things up and got back together but it seems things did not work out for the two.
Amber seems to be unlucky in matters love as she has had quite a number of breakups from businessman Jimal Roho Safi with whom they had officiated their relationship and officially got married, then there came the Sierra Leone lover Kabba and their breakup was nasty and they had a crazy online brawl and now she has parted ways with Rapudo.
If the Amber Ray relationship is anything to go by then I can comfortably say love is not for the faint hearted.
Moments after Amber confirmed she is no longer in a relationship with Rapudo, the businessman responded to her message with," A lie has