Israeli Travel vlogger Coco girl shared videos of Kenyan Men aggressively following her as she walked in the streets of Nairobi.
The young Kenyan Men in the video were seen to be following the Vlogger and from her narration they did it for not less than ten Minutes despite her attempts to stop them.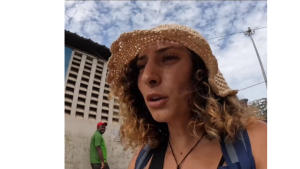 At one point she was forced to push one of the guys off and the man was heard insisting to give her his phone Number.
Here is what her fans said condemning the act in the comments section.
Someone by the name Cosmic said, " Nairobi is a very dangerous place to be in on your Own."
A Kenyan lady by the name Mercy Musilu commented with " Why are you walking by yourself in Nairobi especially in the market?"
A netizen who has hidden his name 
said, "Obviously
 doing it for content."
Another Tik Tok user said " walk in Nairobi market wearing a half cut top, what's the worst that could happen?"
Haitham said, "Kenyans, let's stop embarrassing ourselves. This is a bad image for the country." And Coco girl has responded to this with "There is nothing to be ashamed of. It happens everywhere in the world." An expression that she has had much of this experience not Just in Kenya but across the world.
In the second Video the man did the same thing 
following the Vlogger and in this video as well, netizens asked her not to walk alone in the Kenyan streets.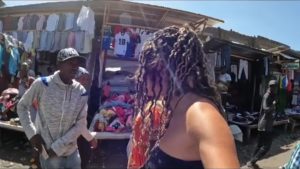 She also received love in equal measure as she shared videos having a great experience in parts of Kenya including Mombasa.
Coco girl travels to different Countries to experience the different cultures and she does share her experience with her Online fans just the same thing she shared the Kenyan men harassment Videos.