President William Ruto has assented to the Independent Electoral and Boundaries Commission (IEBC) Amendment Bill, 2022, paving way for the start of the recruitment process of new IEBC Commissioners.
The amendment bill which was passed by the National Assembly and approved by the Senate changes the composition of the selection panel that oversees the filling of vacant positions in the IEBC.
The signing means the allocation of the Parliamentary Service Commission will be reduced from the current four to two out of the seven members of the Panel.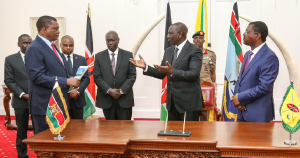 It further allows the Political Parties Liaison Committee to each nominate one member to the Panel.
This translates to a Panel that will consist of one member each drawn from the Public Service Commission, Political Parties Liaison Committee and the Law Society of Kenya.
The Parliamentary Service Commission and the Inter-religious Council of Kenya will each have two members.
The Senate had approved the Amendment Bill as passed by the National Assembly in 2022 without any alterations.
The selection committee's role will be to recruit a new IEBC Chairperson, vice chair and Commissioners.
The committee thereafter forwards the names to the President for appointment.
The President shall within seven days of receiving the names approved by the National Assembly appoint the Chairperson and the members of the IEBC.